When it comes to making big power, turbos reign supreme (in our opinion of course), and based on this, adding a turbo or 2 to your lsx Fbody is the way to go.  While you can add a supercharger or nitrous, when it comes to forced induction, nothing beats a turbo powered LS.  With how easy it is to make power, retain great drivability, and not need an all-out setup, turbos offer most Fbody owners the ability to go as mild or wild they want when adding a turbo.
In this overview, we will cover what companies make turbo kits designed specific for the 4th gen LS F Fbody with common feedback, pros and cons of adding a turbo to your Camaro or Trans Am, and more. 
Pros & Cons Of Turbos on 4th Gen Fbodies
As we've said, the 4th gen is a great platform for making a great street cruiser or all out racecar, and depending on how you're looking to build your car, turbos are a great way to build what suits you best.
While turbos are great, they certainly possess their own sets of challenges with this platform.
Cons:
Cost – Going fast isn't cheap, and doing right the first time makes it even harder to pinch pennies  Sure, there are plenty of guys who get away with adding a turbo to their car on a budget, and that's fine, but don't go into a turbo build thinking it'll be as low cost as a nitrous kit or adding heads and a cam.  Depending on your skill level and if you get new or used parts, you can get away with doing a turbo kit for a relatively decent price, or spend $10,000+ to upgrade everything from front to back.
Space in the engine bay – Since you're reading this article, we can assume you've at least seen the engine bay of a 4th gen Fbody, and I think we can all agree it SUCKS. Because of this, any turbo kit that's front mounted (in front of the motor) will either be highly crammed in the engine bay, or require modification of some sort.  If you're ok with cutting things up, such at the radiator support to make more room, then this may not be a problem.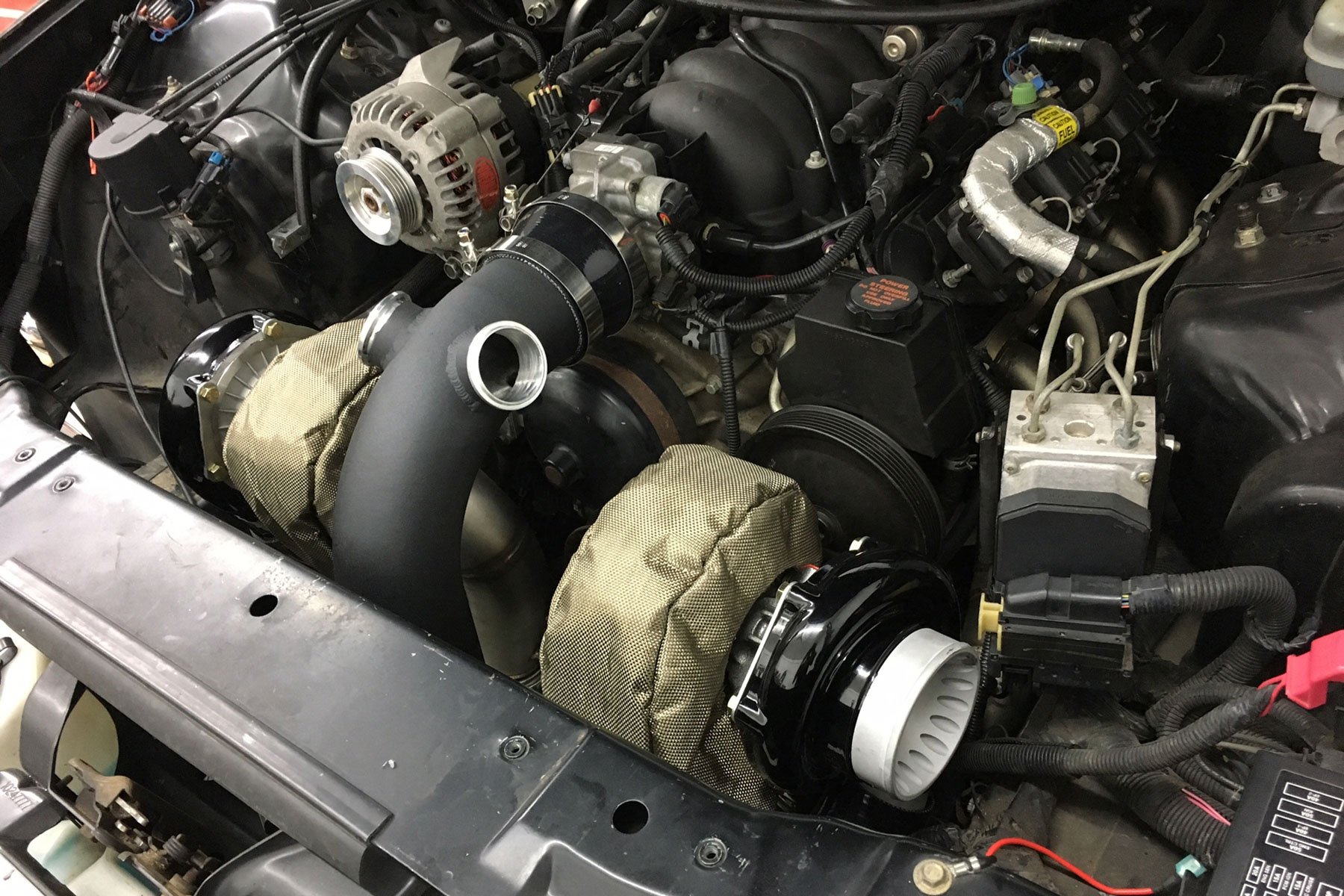 However, if you use your 4th gen as a simple street cruiser, this is something you might not be interested in, and we can't blame you.  In the image below, you will see how crammed a 4th gen engine bay is with a turbo that's designed to be 100% bolt in, and there's not a lot of space to work with.
Potential Modifications – Like we already said, there's a chance you will need to modify things to get your turbo to work the way you want. Again, depending on your tolerance and how "extreme" you're willing to go.  When adding a turbo, there is a very high possibly you will need to change things around such as:
Aftermarket radiator & different hoses
Cut the radiator support to stand the radiator up – If you're looking for more space for your turbo in front of the motor, then standing up the radiator is the best way to create more space without going crazy.
This involves wither notching the top of the radiator support and cutting a large section of it our, or the more clean way, which is to cut the bottom of the top of the support out and fit the radiator in the existing section as shown below.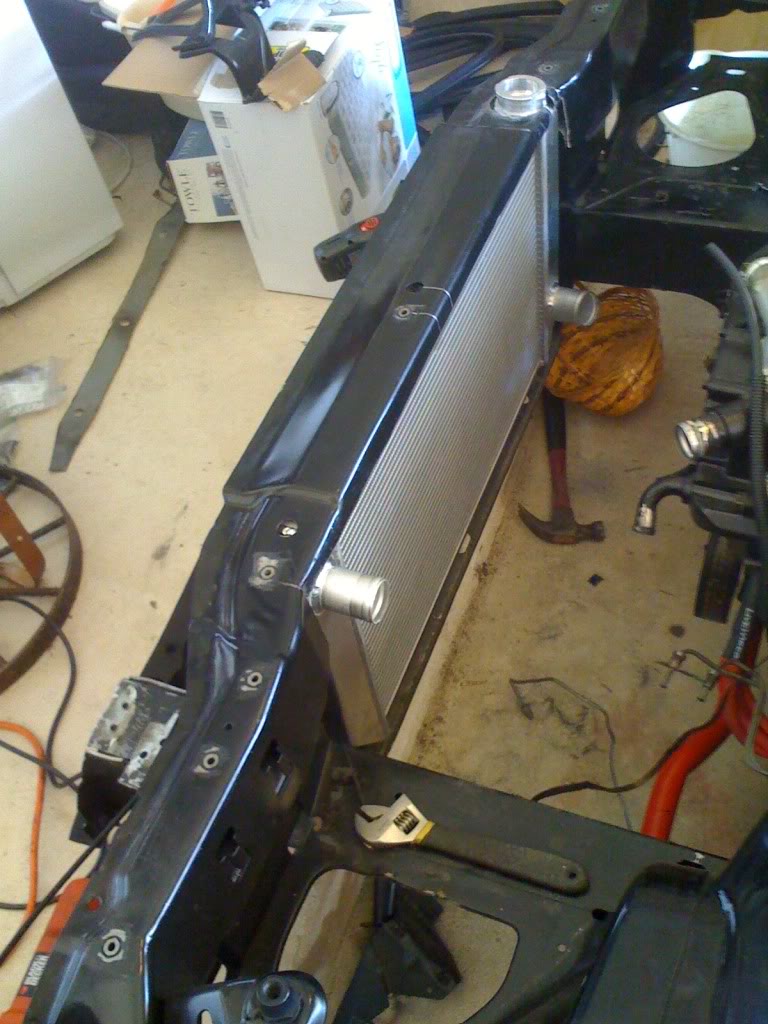 Alternator Relocation – Depending on the kit and / or downpipe routing, moving the alternator is a common modification on turbo F bodies.  This requires you to re-route or redo the wires that go to the alternator.  The alternator is typically relocated to the top of the passenger side head, which deletes the factory style tensioner and requires a new mounting bracket as shown here: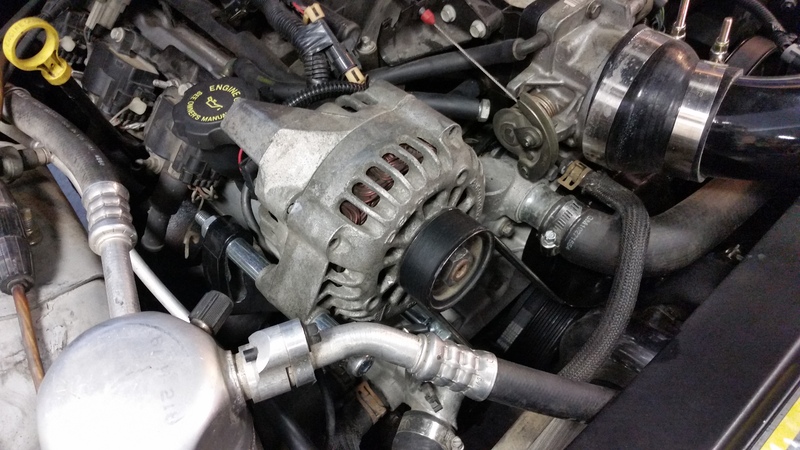 This is just one style of alternator relocation brackets and comes with the On3 Performance kit.
Cooling Issues – Having a turbo'd 4th Gen is cool, but overheating isn't.  While there are certainly ways to prevent overheating, it's not like it's an uncommon thing to deal with. Again, space in the engine bay is tight, and having the "hotside" of the kit close to the motor and turbo close to the radiator, things can certainly warm up.  As mentioned, its common for people to notch the radiator support to stand up and aftermarket radiator to improve cooling capabilities.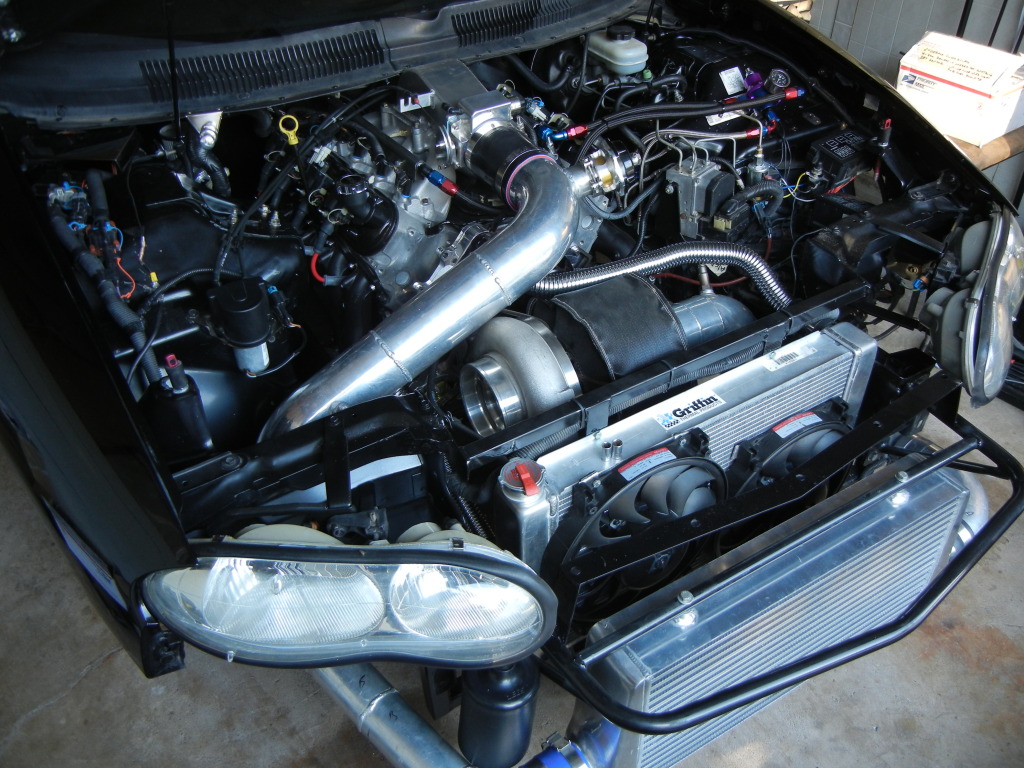 In addition to this, in most cases, you'll need to change your factory puller fans to pushers and mount them on the front of the radiator.  While this might not be a big idea, people often cheap out and install low quality fans that don't push enough CFM to keep the water temp down.  The Derale… pusher fans are highly recommended and run by many with great success.
Fuel System Upgrades – This isn't much of a con, but more of an added expense, and if you're on a tight budget, it's one more thing to buy.  When upgrading the fuel system for your turbo'd Fbody, you'll need a fuel pump and larger injectors at minimum.  Just like how a turbo impacts your power goals, your fuel system is what helps you achieve that.  Can't shove more air down your motor's throat without an adequate fuel supply.
Again, this can depend on what you use. If you're running a very mild setup (~500hp), you can probably get by with a 255 or 340 LPH pump and hotwire kit with 60 pound injectors and keep the stock lines and rails with an upgraded Corvette filter / regulator. However once you start making more power, you will definitely need dual fuel pumps, send and return lines, which are typically -8 and -6, a better regulator at the fuel rail and aftermarket fuel rails.
Drivetrain Upgrades – With more power comes a higher need for stronger drivetrain components.  I don't know about you, but if I have a boosted Fbody, I'm not going to just drive around town without having some fun.  If you don't have a plan to upgrade a weak transmission, clutch, driveshaft, rear, etc, don't worry, your turbo and new found power will let you know it's time.
Exhaust Routing – With how tight everything is in the engine bay, routing your exhaust might be a little tough depending on how you go about it.  With how front mount turbo kits are setup, your options are:
Run the exhaust through the k-member between the motor and frame by the starter – This option is common on street applications if you're trying to retain a factory style cat back, or run exhaust towards the back of the car.  The nice thing about this set up is that it'll keep things as quiet or as loud as you'd like if you add a muffler and / or exhaust cutout.
Run the exhaust out the side of the front of the car – Based on where the turbo typically sits, it's common for guys to run the exhaust out the bumper or even the fender on custom mounted kits. Obviously this setup will much much louder than if it were to go out the back and under the car, and it better suited for race cars, or if you don't mind the added noise and fumes in the car when driving around. This sounds and looks cool, but on a street car can get old fast.  
As you can tell from the two videos, there is a noticeable sound difference at idle between the car with the exhaust out the back (with the cutout closed) and the car with the exhaust dumped out the bumper.
Lack of Traction – This isn't necessarily a con, and roasting tires can be fun, but spinnin' ain't winnin'! Not only that, but losing traction in a car making some steam can certainly be dangerous, so let's be safe here fellas and get some better tires.
Speeding Tickets – Drive the speed limit, guys, c'mon now!
Now that's enough of the negative, let's get on to the good stuff!
Pros:
Power, and all of it – Adding a turbo to your 4th gen provides almost unlimited power (within reason), and all depends on how far you want to go which is the beauty of forced induction, especially boost. If you're just starting out, you can always test the waters with a smaller turbo and always upgrade down the line like most end up doing.
Ability to Control the Power  – With a turbo, you can use a boost controller to well, control the boost.  If you have a street car that you take to the track often, a boost controller makes it easy to turn down the power on the street to make it more manageable, but allows you to turn it up at the track. Not only that, but with how tuning is these days, it's not too hard to control boost by other factors like speed.  This might be used for example to get traction on a low boost setting and ramp it up over the duration of a run and have a linear boost curve.   Or you can give it ALL THE BOOST!! and pull like a freight train off the rip.
Turbo Noises – Let's be real, turbo noises are fun.
Easy to Drive – One of the best benefits of a turbo is that it doesn't require a crazy setup like a big cam or big converter to make power.  This allows you to build a very mild engine setup built to handle the power and it'll drive like a stock(ish) car until you get into it.
Ability to Easily Change Turbo Sizes – Again, based on your power or desired outcome, you there are almost limitless options when it comes to turbos. Whether you want a turbo to spool very quick for a run street car, or looking to really turn the RPM's you can have a turbo that spools and builds major power higher in the RPM band for a straight line monster.
So while there might be a number of cons, the pros more than make up for it. The general consensus with turbo Fbodies is that if you're willing to deal with some potential upfront hassles, having a turbo is more than worth it, especially if you have a racecar and are ok with fabrication work.
If you have a 100% street car though, you should be honest with yourself about adding a turbo since there are certainly a few things to consider.
However, the extreme majority of people who go the turbo route say "man, I really regret this decision." unless they went too far, which is somewhat common.
If you're looking for a pre-fabbed turbo kit for your LS F Body, you have a number of options.  All aftermarket ls1 turbo kits come with the ability to use truck manifolds, or header style manifolds.  For example, Huron Speed's popular t4 and t6 kits come with a header style manifold that attaches to the downpipe, but they also offer a lower cost option to use factory truck manifolds.  Depending on your budget or preference, you can make power with either style of exhaust setup.
Huron Speed
On3 Performance 
CX Racing